BENCHMARKING & MONITORING

Benchmarking & Monitoring
PPS (Payment Performance System)
Introduction
INTERTANKO's Payment Performance System (PPS) is a confidential database exclusive to Members, containing freight and demurrage payment records covering most major tanker charterers worldwide. By recording and monitoring freight and demurrage payment records, the database can extract reliable and real-time KPI data on payment trends providing every Member with the ability to: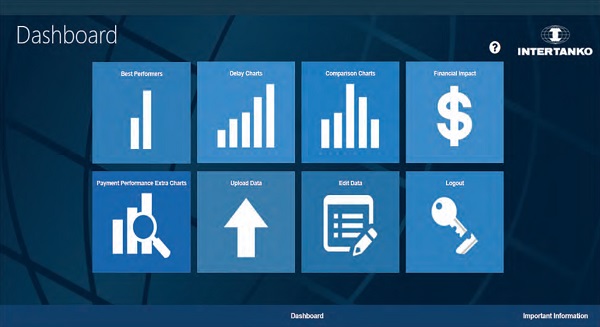 benchmark their company's overall payment performance against that of all other Members and how this figure varies within the different size segments
compare their experience with one charterer against the experiences of all other Members with the same charterer
compare the payment performance of one charterer against its competitors (in compliance with antitrust advice)
see a list of the best performing charterers for prompt payment of freight and demurrage
see the average delays in payments and the USD ($) cost that comes with that to their company and to the industry as a whole
keep a track of the average delays in submitting, negotiating and getting demurrage claims paid
Please login
The Benchmarking and Database Tools are exclusive to INTERTANKO Members - you must be logged in to use them.
No Access
You do not currently have access to the selected tool - please click here to request access, stating the name of the tool(s) you would like access to.
By requesting access, you confirm that you have read and accepted the terms and conditions.
© INTERTANKO. All documents, and image-files are property of INTERTANKO.
The use of the benchmarking database is subject to the following:
The content of the database is for your general information and use only. It is subject to change without notice.
The information is compiled by INTERTANKO and whilst we endeavour to keep it up to date and correct, neither we nor any third parties provide any warranty or guarantee of any kind, express or implied, as to the reliability, accuracy, timeliness, completeness or suitability of the information found or offered on the benchmarking database for any particular purpose. You acknowledge that such information and materials may contain inaccuracies or errors and we expressly exclude liability for any such inaccuracies or errors to the fullest extent permitted by law.
Your use of any information or materials on this website is entirely at your own risk and it shall be your own responsibility to ensure that any information available through the database meets your specific requirements.
The contents of the database are copyright of INTERTANKO. Any redistribution or reproduction of all or part of the contents in any form is prohibited save that the user may print or download to a local hard disk extracts for the user's own use.
The benchmarking database and the use of it are governed by English Law. The English courts shall have exclusive jurisdiction over any disputes connected to or arising out of use of the benchmarking database.