Confronting shipping protectionism - Sir Yue-Kong Pao (1979-1982)
Sir Yue-Kong Pao's contribution to INTERTANKO was marked by the Association's developing place on the world political stage.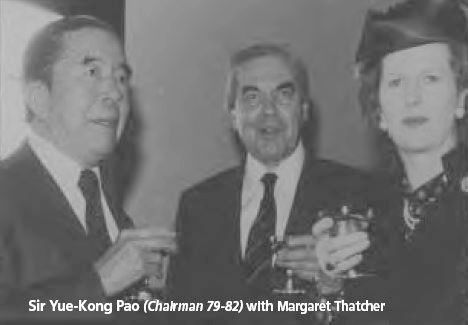 Pao was one of the world's richest men, a giant in Hong Kong society and the largest independent tanker owner. He was also very well-connected with direct access to world leaders like British Prime Minister Margaret Thatcher, American President Ronald Reagan and German Chancellor Helmut Schmidt. Pao's Annual Meetings featured President Ferdinand Marcos in Manila in 1981 and Dr Henry Kissinger in Washington in 1982.
Under Pao, INTERTANKO gained its consultative seat at the Intergovernmental Maritime Consultative Organisation (IMCO) and also gained consultative status at the United Nations Conference on Trade and Development (UNCTAD) - a status the Association was to use with great effect.
By 1982, INTERTANKO had Member companies in 29 countries. The category of Subscriber Members was expanded in 1979, principally to allow the Kuwait Oil Tanker Company, which had been taken over by the state and so no longer conformed with the Membership eligibility requirement of "independence", to retain its association with INTERTANKO.
In 1979, the UNCTAD V Conference convened in Manila, Philippines, with an agenda including cargo sharing. INTERTANKO opposed the concept of forced cargo sharing in the belief that the open market gave developing countries the most efficient access to competitive shipping costs.
INTERTANKO produced a paper and presented it at UNCTAD V. Developing countries' tanker fleets had in fact grown faster than industrialised countries' fleets over the 1970s, noted INTERTANKO.
It may have seemed odd that, at a time when the concentration in tanker shipping was still on reducing the tanker surplus and tanker operating was barely profitable, developing countries should have wanted to join in.
But the second agenda of UNCTAD was an attack on "open register" shipping - registration of ships in countries with which they had little if any association. This had over many years been a target in the US to be shot at as well. All the efforts of the Americans had, however, failed to stem the outflow from the American flag and the sinking of American-flag competitiveness in international bulk shipping.
UNCTAD remained busy into 1980. The Committee on Shipping met in September and INTERTANKO was pleased to see there was no resolution aimed at cross-traders or promoting cargo sharing.
Cargo sharing
However, cargo sharing was back on the agenda in 1981 when the Eastern Bloc countries and the developing countries backed the UNCTAD Secretariat which wanted to develop cargo sharing rules.
INTERTANKO commented: "Under these circumstances economic reasoning may easily be overridden by political ambitions". With few exceptions, even the smallest developing country had a national airline. Now they wanted a national shipping line too.
The UNCTAD Secretariat's submission had decided that there were "formidable barriers" to developing countries entering ship operation due to control of the trade by trans-national co-operations in bulk trades.
A group of experts, formed in 1981 to examine the Secretariat's contention and investigate the conditions in four dry bulk trades, found no substance in the Secretariat's assertions.
However, INTERTANKO remarked that the Secretariat's "campaign for flag preferences is not likely to be stopped by the Group of Experts' report".
At Geneva in June 1981, the UNCTAD Committee on Shipping adopted a resolution to "gradually and progressively transform open registries into normal registries by a process of tightening the conditions under which open registry countries retain or accept vessels on their registers so that they will be capable of identifying owners and operations including the maintenance of standards and the welfare of their crews".
The wording might have been relatively bland, but the aim of the developing countries' group was still the creation of national fleets.
The developing countries group's spokesman at Geneva had been the Sri Lanka delegation's leader. As INTERTANKO reported: "Sri Lanka surprised everyone shortly afterwards by announcing that she had opened her registry for foreign vessels".
UNCTAD's threats to free competition in shipping were to continue for some years but the shipping industry, including INTERTANKO, could claim some satisfaction that arguments in favour of free competition had been substantially vindicated and upheld by the Conferences in the face of the UNCTAD Secretariat's pressure in the other direction.
The US made fresh rumblings about promotion of American flag shipping when a bill presented in Congress proposed to retain 40% of the coal trade to American flag shipping.
Tormod Rafgård, General Manager of INTERTANKO, and Trygve Meyer met with United Stated Maritime Administration officials and Senate and House of Representatives in Washington to defend the international shipping system.
The change of President from Democrat Jimmy Carter to Republican Ronald Reagan, who was committed to free trade, blunted the protectionist threat, and in fact maritime subsidies for American shipping were substantially reduced.
Another oil price shock occurred in 1979 following the Iranian Revolution but the reflection into the tanker industry was less earth-shaking than the embargo of 1973. The tanker market improved and ship values rose. A Very Large Crude Carrier (VLCC) built in 1974 worth $11m in 1977 was valued at $29m by the end of 1979. However, as war broke out in 1980 between Iran and Iraq - limited at this time to land border fighting - and a recession gripped the industrial countries, uncertainty of oil supply and reduced oil demand depressed the market.
OPEC production fell from 30 million barrels of oil a day in 1980 to 21 million in 1981, on top of a 10% drop between 1979 and 1980. As the price of oil had risen, energy conservation became of more interest in consumer countries and wasteful use of oil was reduced - thus further reducing demand. In 1980 tanker market activity reduced. Time chartering fell from 27 million deadweight tons to 23 million, and voyage chartering fell 9.3%.
Increased production in new oil producing areas improved the opportunities for smaller crude oil ships to obtain reasonable rewards by reducing unremunerated ballast voyage legs, but this was not an option open to VLCCs.
The surplus tanker capacity was absorbed in a variety of ways. Some was in lay-up, some was absorbed in deadfreight - unused (empty) ship capacity - while oil traders shipped oil in specified cargo parcel lots, unlike oil companies which had tended to load tankers up to capacity. Some tanker capacity was also absorbed by ballast tanks or slop carriage. Much of the fleet was still slow steaming, due to the high cost of bunker fuel, while port times had increased particularly because extra time was now taken in crude oil washing (COW) of tanks, and tank stripping to improve cargo outturn.
The number of tankers in lay-up fell from 24.7 million tons of capacity in 1978 to 10.1 million in 1979 and to 7.5 million in 1980. On the other hand, floating storage of oil increased. At the end of 1979, 7 million tons of tanker capacity was thus engaged, by the end of 1980 the figure was 10 million and during 1981 a peak of 35 million was reached, principally represented by Japanese strategic reserves, and storage close by the US. The difference was that tankers employed as storage ships gained a freight income that was sometimes higher than voyage rates. Laid up ships, on the other hand, did not earn any money.
Ship scrappage
Scrapping of surplus ships continued at high volumes but still not high enough to dissipate the surplus. INTERTANKO continued its efforts to encourage countries to start scrapping industries.
In 1982 Sir Yue-Kong Pao led a delegation to China and met the Prime Minister Zhao Zhiyang and other ministers and officials. INTERTANKO preached the virtues of free competition and spoke about the potential for increased ship scrapping in China.
The first ship scrap facility in China was started at Chungmin Tao in 1983. A few years later China scrapped more tonnage than any other country in the Far East.
Over the period 1974 to 1979, 1350 tankers had been scrapped. In 1980, 26 VLCCs were scrapped and in 1981 that figure rose to 41.
Oil companies moved to scrap their obsolete and surplus ships - a move INTERTANKO had promoted. Only one oil company VLCC was scrapped in 1980 but 15 of them went in 1981.
The search for alternative uses for surplus tankers continued. Many combination carriers were reclassified for dry cargo only. INTERTANKO commissioned a study on storage of coal in tankers. Studies looked at shipping fresh water in tankers, at use in offshore oil production and as accommodation hulls. A total of 32 conversions took place in 1981, from oil shipment to other purposes.
New ordering and deliveries were at moderate levels. However, the order book rose in 1979 from 11.6 million deadweight tons to 20.8 million, and in 1980 to 26 million. Most of these orders were for smaller ships, particularly modern product carriers with enhanced cargo segregation and cleaning capabilities, to switch between different oil grades. The 1981 order book dropped to 5 million tons and INTERTANKO continued its seemingly eternal battle against shipbuilding subsidy. Indeed, it warned ship owners and investors against indulging in speculative ship ordering.
INTERTANKO ventured into a new area at the 1980 Annual Meeting by launching a bunker fuel testing scheme in co-operation with Det Norske Veritas.
The rise in bunker prices had been paralleled by reduced bunker quality as oil refiners extracted more and more higher-value products out of crude oil, leaving a worse and worse residue for marine fuel.
As well as meaning that ships were getting "less for more", the declining quality of bunker was risking engine damage and could cause engine breakdowns at sea and the hazards of a stranding. Furthermore, bad bunkers left a large unburnable sludge residue in the bunker tanks which had to be disposed of.
Bunker standards
INTERTANKO worked to obtain internationally-agreed bunker standards under the International Standards Organisation (ISO) scheme.
Tanker safety work centred on pressing governments to fulfil their obligations under the IMCO Conventions. INTERTANKO urged governments' maritime administrations to improve the provision of navigational aids at ports and congested shipping areas. Waste oil reception facilities, increasingly relevant in view of increased amounts of bunker sludge, remained inadequate and were called for. Studies were also initiated into the provision of safe anchorages for disabled tankers.
In 1981, INTERTANKO adopted the "Standardise for Safety" slogan to identify a need for tackling safety provision, pollution prevention and crew training and qualifications. The slogan emerged from INTERTANKO's Safety and Technical Committee and was launched by WS Martin of Capeside Steamship Co. It was a clear call for the ratification and implementation of IMCO's safety standards by the necessary national legislation.
The problem of implementation was a serious one. The Safety of Life at Sea Convention (SOLAS 74-78) took effect in May 1981. While onboard requirements had been complied with, only the US, Japan and the United Kingdom had adopted them for application in their ports.
IMCO was urged by INTERTANKO to work on enforcement of existing Conventions before discussing amendments to them. The Marine Pollution Convention (MARPOL 73-78) had still by 1981 not achieved the necessary ratification to come into force - three countries short of the necessary 15 and 11% short of the necessary 50% of shipping.
INTERTANKO's discussions also forecast the development of port state control of shipping - the right (and duty) of port states as well as flag states to regulate and check the condition of ships using a country's ports.
INTERTANKO Member Jan Bucha Godager, addressing the 1979 Annual Meeting in Kuwait, said: "The shipping industry is interested in keeping up a good standard on board the ships. It will serve no useful purpose to keep sub-standard ships going, which will result in pollution and a threat to safety. Traditionally safety at sea was a question of safety of the crew and the ship and its cargo. Nowadays, it is also a question of safety and pollution threat to the coastline of the port state. No doubt we will see a development where the port state will have a steadily increasing influence on safety matters. In our efforts we would also have to search for ways and means of finding agreements for voluntary compliance on an international basis, particularly when ratification of conventions, from experience in the past, shows us that timing and efficiency are not according to expectations from people who have dealt with shipping over generations."
INTERTANKO's Safety and Technical Committee concerned itself about onboard standards of crew qualification in the wake of the Standards of Crew Training and Watchkeeping (STCW) Convention. "Management," said the Committee, "should assume the responsibility for adequate onboard training of personnel who are entrusted with the safety of life and ships at sea."
Not all initiatives intended to improve tanker safety were welcomed by INTERTANKO. The oil companies proposed the formation of a database of information recorded on tankers and their crews. The scheme, codenamed Voluntary Information System for Tankers (VISTA) was promoted by the Oil Companies' International Maritime Forum (OCIMF).
At the 1979 INTERTANKO Council, it was decided that, whilst fully supporting any constructive moves to eliminate substandard operators, "mechanical projects based on the mere compilation of historical data of vessels' ownership and conditions would not produce a higher degree of operative excellence and thereby improve maritime safety and reduce pollution".
INTERTANKO believed the VISTA project duplicated, unhelpfully, the work of Classification Societies. VISTA was shelved but new more sophisticated plans from OCIMF in the next decade gained a more positive response from INTERTANKO.
Bills of Lading Registry
The criticism which Per Gram had levelled on INTERTANKO's behalf at modern practice on bills of lading produced an attempt at a solution in 1981. There are risks involved in delivery of oil cargoes without the bills being produced, and to receivers different from those stated in the bills or at ports different from the destination. Chase Manhattan Bank launched a pilot scheme for a Bills of Lading Registry and presented it to the International Chamber of Commerce, and a committee of Protection and Indemnity Clubs.
The Bill of Lading Registry scheme was designed to provide a method for depositing the bills of lading in a registry and thus giving security - by way of ready access to the original bills - to shipowners delivering cargo to receivers. The long postal or courier journeys of bills of lading amongst traders as cargoes at sea were bought and sold were theoretically completely eliminated.
In 1980, former Chairmen Jørgen Jahre and Erling Næss retired from the Executive Committee and were made Honorary Members of INTERTANKO. The Vice-Chairmen of INTERTANKO in 1981 were Derek Hall of P&O Steam Navigation, United Kingdom, Sven Salén of Salénia, Sweden, and Professor Dr R Stödter of John T Essberger, Germany. Membership fees were now $350 per ship below 50,000 Gross Registered Tons and $700 above. The Secretariat staff numbered 12. The Safety and Technical Committee had grown to 12 members and the Worldscale Committee had five. The Documentary Committee still led in numbers with 17 members, including owners, brokers and lawyers.
INTERTANKO had now marked its 10th anniversary and in 1981 the Financial Times devoted several pages to the Association and shipping paper Lloyd's List published a 20-page supplement to mark the occasion. Despite INTERTANKO's long-time strictures against their overbuilding of tankers, advertising came from shipyards and shipping banks, shipowners, equipment suppliers, bunker suppliers, Classification Societies, P&I Clubs, agents and brokers. But no oil companies advertised.
Sir Yue-Kong Pao's three-year term as Chairman ended at the 1982 Annual Meeting in Athens in April and he followed Jørgen Jahre and Erling Næss in becoming an honorary Member of the Association.