Info Centre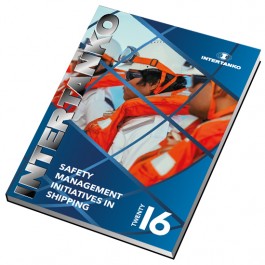 Safety Management Initiatives in Shipping
1 October 2016
Authored by INTERTANKO's Human Element in Shipping Committee and intended as a supplement to the requirements outlined by Chapter IX of SOLAS and the ISM Code, this text outlines a range of safety management initiatives available to shipping companies and discusses the usefulness of these in improving safety performance. The book acts as a guide to the concepts, terminologies and practices of safety management; demystifying various terms and concepts set out in, but not always clarified by, the ISM Code and SOLAS.
Overview
International shipping is increasingly the subject of public scrutiny, accountable for how it manages its operations particularly in the light of some recent high-profile maritime casualties. In response to public concern, in 1998 the International Maritime Organization (IMO) adopted a new approach to managing safety when the new Chapter IX of SOLAS, Management for the Safe Operation of Ships, and the accompanying International Safety Management (ISM) Code came into force. In keeping with its non-prescriptive ethos, the ISM Code sets out the requirement for shipping companies to have in place a safety management system, but it does not stipulate the method for achieving satisfactory safety performance.
INTERTANKO's Human Element in Shipping Committee is responsible for promoting and disseminating best practice in the management of people and safety in the tanker industry. As part of the work of the Committee, from time to time initiatives and practices are reviewed and best practice disseminated. This publication was initiated under the outgoing Chair of the Committee, John Adams. The new Chair, Tommy Olofsen, has made publication of such guidance a priority for the Committee.
Details
Title: INTERTANKO Safety Management Initiatives in Shipping
Number of Pages: 49
Product Code: WS1523K
Published Date: October 2016
Weight: 0.30 kg
Author: INTERTANKO
How to purchase
Please note that transactions are securely handled by INTERTANKO's publishing partner, Witherby Publishing Group (view their terms and conditions).
If you have not visited the Witherby Publishing Group website before, you can view the publication on their website before you buy by clicking here.
Please click on the 'Buy Now' button (below the publication image at the top of this page).
Members - please apply the discount code 'INTERTANKO' if it is not automatically applied.